April 2, 2021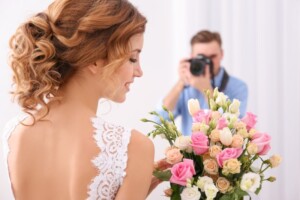 Throughout your life, there have probably been and will be plenty of events and experiences that you will be involved in where you will find yourself spending a significant time in front of a camera lens. While those times will be important, most of them don't compare to the focus that will be on you when it comes to your wedding day. Whether you'll be waiting at the altar or walking down the aisle, you will want to be completely in the moment without any distractions to bother you. The last thing you want to have to concern yourself with is what your smile is going to look in all of the high-quality videos and hundreds of photographs that will be taken of you during the ceremony, group photos, and at the reception.
So many of my patients tell me all the time that they're unhappy with their smiles for a multitude of reasons, and I see plenty of engaged people who want cosmetic dentistry before their wedding. This inspired me to come up with a list of five ways you can prepare your smile both in the dental sense and in a practical sense so that you can be fully confident in the visual memories you'll be making and enjoying for years to come.
1: Practice Regular Oral and Stay on Top of Regular Checkups
As a dentist, this one is always at the top of my list when it comes to the making of a beautiful smile. The truth is, regardless of how much cosmetic dentistry you have done, it will eventually become unprofitable if you don't take care of your teeth and gums. Brush and floss on a daily basis to make sure you're removing plaque and bacteria and be sure to see your dentist for regular checkups and cleanings. Dentists like me have a trained eye to catch potential issues, such as gum disease or oral cancer that can require costly treatments or become life-threatening if not dealt with.
2: Get Professional Teeth Whitening
There is a good reason why professional teeth whitening is one of the most popular cosmetic dental procedures. Who doesn't want their pearly whites to be shining brightly while the videographer is capturing their walk down the aisle or first dance with their spouse at the reception? If you've tried over-the-counter strips and gels without seeing results, I've got good news for you. There are professional in-office whitening treatments that can have your teeth looking several shades brighter in just one visit. I perform these at my practice all of the time, and when you're getting your smile camera-ready for an upcoming event, it's a foolproof and quick way to see results!
3: Talk to Your Dentist about Porcelain Veneers
There are some tooth flaws that require a little more help. If you have cracks, gaps, or stains that were too dark to be removed with whitening, porcelain veneers are a great option for you. Have you ever noticed how beautiful some of your favorite celebrities look on screen? Tom Cruise, Zac Efron, Catherine Zeta-Jones, Demi Moore, and many other stars have porcelain veneers. There's a reason why they call it a "Hollywood smile," and you deserve to have one on your wedding day.
4. Straighten Things Up
Cosmetic dentistry's second most popular procedure is teeth-straightening. While there are many methods for a straighter smile these days, Invisalign has taken the cosmetic dental world by storm. The best part about it is that it's completely invisible to the naked eye and to the camera lens! Don't suffer through having to hide your smile on your big day for fear of crooked teeth or unsightly metal brackets and wires. Talk to your dentist about Invisalign as an option to give you the smile of your dreams.
5: Choose Wisely
This tip may be slightly less dental-oriented, but it's no less important when it comes to preparing for your big day. For years to come, you'll be showing friends, family members, and possibly your little ones your wedding video. Of course, you will want to be more than pleased with the results. That's why it's so important to do your research and make sure you are choosing a highly talented and experienced videographer and photographer to capture every second of your big day. When you relive those moments through beautiful video footage and imagery, you'll want to feel proud and excited by what you see. Take the time to find the best team out there so that your wedding day memories can be more incredible than you ever imagined!
About the Author
For more than three decades, Dr. Eric Barajas has been providing the highest quality of dental care to every patient he treats. He understands the importance of having a smile you can be proud of on your wedding day or for any big milestone in your life, and it is his top priority to give you the set of pearly whites you have always dreamed of having. He has completed countless hours of training and continuing education in order to be able to provide superior treatment. Is your smile camera-ready? Visit us online to schedule a consultation or call (619) 482-7367.
Comments Off

on Is Your Smile Ready for Your Big Day?
No Comments
No comments yet.
RSS feed for comments on this post.
Sorry, the comment form is closed at this time.