November 9, 2021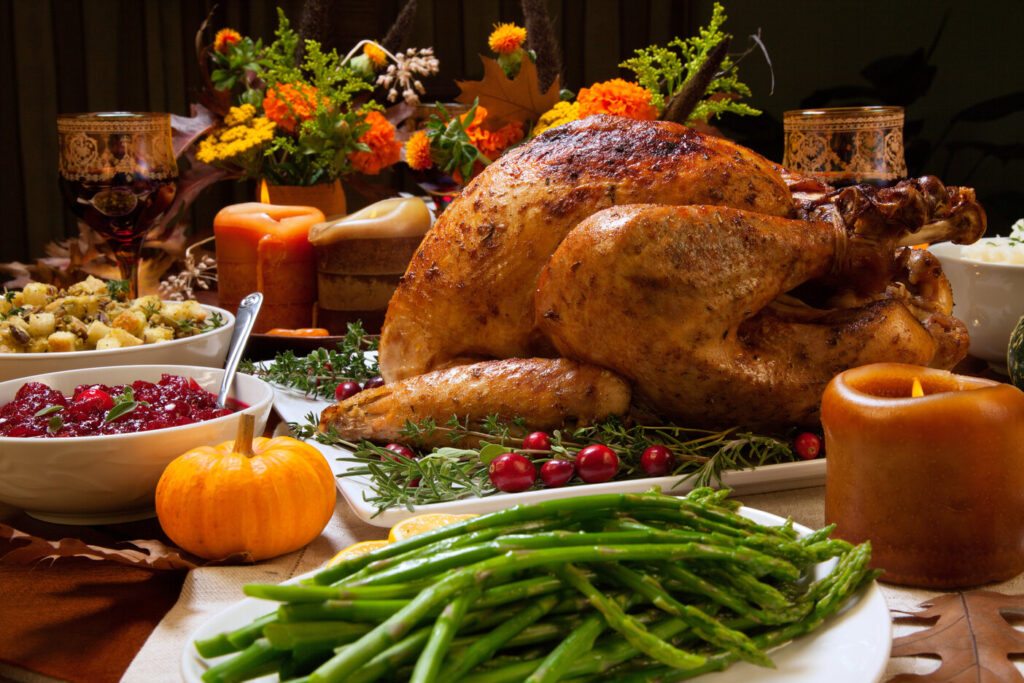 The holidays may be the tastiest time of the year, but they can also do a lot of damage to your teeth. The increase in sweet, sticky, and carb-heavy foods can wreak havoc on your oral health and really put a damper on the magic of the season. To help you make it through the next few months without an emergency visit to the dentist, here are five holiday foods you should have in moderation or skip altogether.
#1: Candy
Hard candies like candy canes and butterscotch are sticky and made up mostly of sugar. This means they are difficult to wash out of your mouth, which gives bacteria plenty of time to feed on them and release acids that can harm your teeth. These candies also contain high fructose corn syrup, which causes intense blood sugar spikes. In response to this, minerals are pulled from the teeth and bones to restore balance, which weakens them in the process. As a replacement, eat soft, sugar-free candies like peanut butter cups and peppermint patties.
#2: Eggnog
Eggnog contains a lot of sugar and may also contain alcohol. The sugar combined with the acidity from the alcohol can cause serious damage to your tooth enamel. Drink eggnog in moderation or consider switching to a sugar-free alternative like a gin and tonic.
#3: Caramel Popcorn or Kettle Corn
Caramel popcorn and kettle corn are sticky and sweet, so they can easily get stuck to your teeth and accelerate tooth decay. The thin shells that cover the kernels can also get stuck between your teeth and gums. Additionally, biting down on unpopped kernels can also crack, chip, or fracture your tooth, which will require an emergency trip to the dentist.
#4: Bread, Baked Goods, and Stuffing
Baked goods, bread, stuffing, and other high-carb and starchy foods are worse for your teeth thank you might think. Carbs are broken down into sugar during digestion, so they can harm your oral health in a similar way. If you indulge in some holiday treats, eat them in moderation and brush your teeth or drink water afterward to wash away leftover sugar. Consider skipping the bread and stuffing in favor of roasted veggies like carrots or broccoli.
#5: Dried Fruit
Just like candy, the stickiness of dried fruit makes it difficult to remove from your teeth. Paired with its sweetness, dried fruit is bad news for teeth. Substitute it for fresh fruits like apples and pears. These are less damaging to your teeth and increase saliva production, which can help wash away harmful oral bacteria.
Skipping the above foods and drinks or consuming them in moderation will help prevent a holiday dental emergency. Keep your mouth healthy and happy this holiday season so you can enjoy spending time with loved ones and getting some much-needed rest and relaxation!
About the Practice
Chula Vista's oral health is in good hands with Dr. Eric Barajas and his talented team at Village Walk Dental. They take pride in helping patients of all ages maintain healthy, beautiful, and brag-worthy smiles. They can also offer tips and tricks on how to protect your teeth from harm this holiday season. Ready to schedule an appointment or have questions about which holiday foods can hurt your teeth? Call their office at (619) 482-7367 or visit their website for more information.
Comments Off

on 5 Holiday Foods That Can Hurt Your Teeth
No Comments
No comments yet.
RSS feed for comments on this post.
Sorry, the comment form is closed at this time.