Dental Crowns – Chula Vista, CA
Repair & Strengthen a Compromised Tooth

Did you know your natural tooth enamel is the hardest material in your body? Even so, this doesn't mean it's indestructible. Furthermore, once it's been damaged or otherwise compromised, it won't be able to regenerate on its own like bone tissue. To avoid any further damage or allowing an infection to develop, you'll need to get it professionally treated. If you have a severely decayed or damaged tooth, our team at Village Walk Dental can restore your smile with custom-designed dental crowns in Chula Vista. Read along to learn more about this tooth-replacement option or reach out to our office today to schedule your consultation.
Why Choose Village Walk Dental For Veneers?
High-Quality, Durable & Long-Lasting Materials
Completely Personalized Restorations For Each Patient
Accepts Dental Insurance & Offers Alternative Financing
What Is a Dental Crown?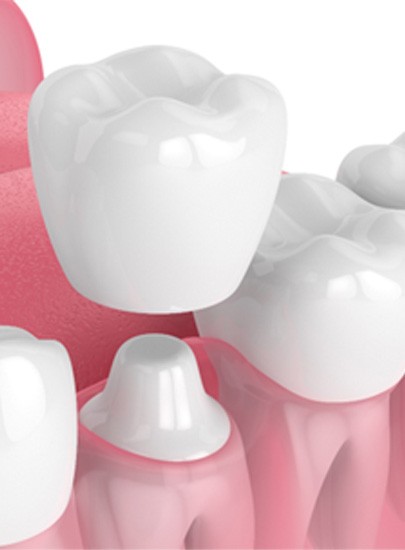 A dental crown is a tooth-colored cap that is specifically crafted to fit seamlessly on top of a damaged or compromised tooth. The durable ceramic material can hold the weakened structure together as well as protect it from further harm. Your restoration will be personalized and color-matched to the shade of your enamel, that way your results look and feel as natural as possible. Once your crown is fitted in place, you should expect it to blend flawlessly with the rest of your pearly whites. You'll be able to enjoy the full function and beauty of your tooth as though it had never been compromised in the first place!
The Dental Crown Process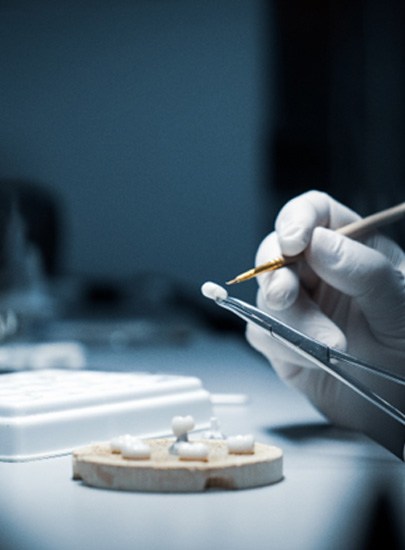 For most treatments, it should only take a couple of appointments to restore your tooth with a dental crown. After our team has determined that this tooth-replacement option is best for your smile, we'll begin the preparation phase. This will involve numbing your mouth completely before removing a small amount of enamel from your tooth to make space for your restoration. We'll then take impressions of your smile and send the information to a dental lab for fabrication.
Your final dental crown will take about two weeks to be constructed, so we'll provide you with a temporary one during this time. Once your permanent restoration is finished, you'll come back into our office to have your provisional crown replaced with the real one. We'll take the time to ensure that the fit is correct, your bite feels comfortable, and you're satisfied with your results. Then you'll be sent on your way to enjoy showing off your newly repaired smile!
The Benefits of Getting a Dental Crown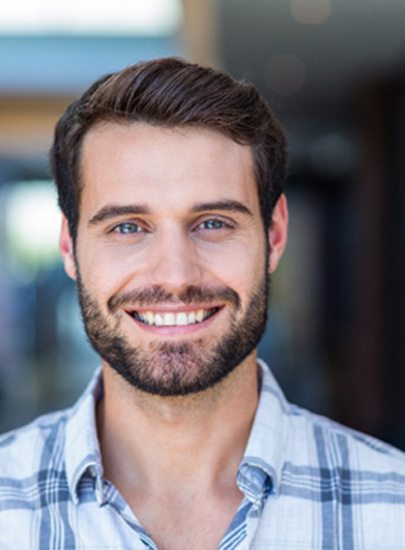 Dental crowns are incredibly effective and reliable, providing a wide variety of essential benefits, including:
Protection against future decay, damage, and potential infection
Restore your ability to eat, chew, and speak comfortably
Save damaged or compromised teeth from further complications (or extractions)
Enhance the function and appearance of a tooth
Durable and natural-looking material that can last 10 years or more with proper care
Dental Crowns FAQs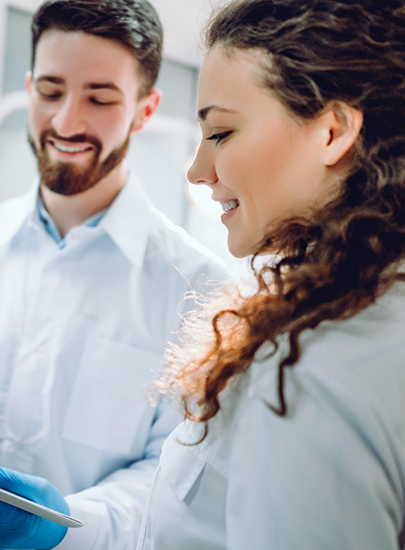 Are you struggling with a tooth that's severely decayed or damaged? If so, you won't have to get it extracted to preserve your oral health. With dental crowns, you can effectively repair and improve your tooth to help it survive for many years to come. Even so, it's normal to want to know as much as you can about the treatment before jumping on board. That's why our team at Village Walk Dental has compiled and answered some of the most frequently asked questions we get about this tooth-replacement option. Read on or give our office a call today if you want to learn more about dental crowns in Chula Vista!
Are Dental Crowns Permanent?
Dental crowns will eventually have to be replaced, so they aren't considered a permanent restoration solution for your smile. However, since they'll be constructed out of durable and lifelike ceramic material, you can easily expect them to last around 10 years or more with proper care. The only irreversible part of the process is the reshaping of your tooth to make room for your crown. Your natural enamel will not be able to grow back on its own, so you'll need to cover your tooth with a restoration going forward. To keep your dental crown in pristine condition, be sure to practice good oral hygiene, stick to a healthy lifestyle, and schedule dental visits routinely.
Does It Hurt to Get a Dental Crown?
Like other dental procedures, our team will ensure your mouth is completely numbed with a local anesthetic before beginning any work. If necessary, we may even offer sedation dentistry to help keep you relaxed throughout your appointment. This means you shouldn't feel much or any discomfort during the tooth preparation phase. Though you'll be numbed for the first appointment, you may not require the anesthetic for the final crown placement. After you've received your restoration, it's normal to experience some sensitivity for a few days. This can be easily managed with over-the-counter pain relievers as instructed.
Can Dental Crowns Be Whitened?
Your crown will not be made of the same organic and porous material as your natural teeth, so it won't be able to get whitened in the same way. Without the microscopic pores, bleaching agents can't penetrate the surface and blast away stains. If you wish to maintain a brighter smile, be sure to ask Dr. Barajas about whitening your smile before getting your dental crown placed. This way your tooth replacement will be color-matched with the rest of your smile!
How Do You Know When a Dental Crown Needs to Be Replaced?
The best way to determine if your dental crown needs to be replaced is by taking X-rays or having Dr. Barajas thoroughly examine your tooth. That said, here are several common indications that your restoration may need to be switched out for a new one:
Instability: If your crown ever feels loose, especially when chewing on something sticky, make sure to contact your dentist right away.
Discomfort: This could mean your underlying tooth is decayed, so your crown will need to be removed for the cavity to be addressed.
Worsened appearance: A crown that's been chipped, discolored, or otherwise compromised should be replaced as soon as possible.
Dark line at base: Porcelain-fused-to-metal crowns can wear down over time, revealing the dark metal material underneath. If this bothers you, then you should consider replacing it soon.