Dentures – Chula Vista, CA
Regain the Complete, Healthy Smile You Deserve
Are missing teeth holding you back in life? The loss of even just one tooth can make everyday tasks more challenging. If you're missing most or all your teeth, you likely find it difficult to speak clearly, eat comfortably, and smile confidently. As if that weren't enough, tooth loss increases your risk of a variety of oral health problems like gum disease and jawbone deterioration. At Village Walk Dental, we want to help you regain the complete, healthy smile you deserve with custom-made dentures in Chula Vista! Read on to learn more about this reliable restoration and give us a call today to schedule your denture consultation.
Why Choose Village Walk Dental For Dentures?
#1 Talented Dentist with Over 3 Decades of Experience Serving Chula Vista
#2 High-Quality Materials for Beautiful and Durable Results
#3 Dental Insurance Welcome & In-House Savings Plan Available
Who Is a Good Candidate for Dentures?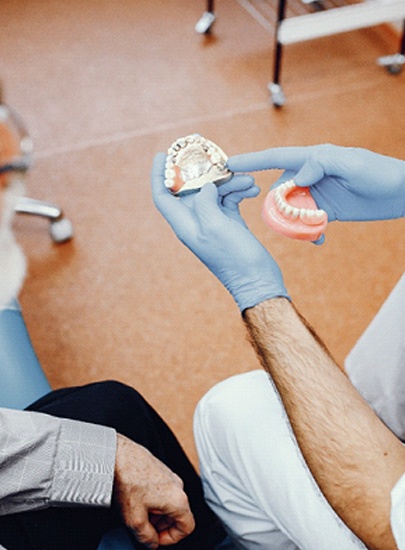 One of the reasons why dentures have remained as one of the most popular ways to replace missing teeth is because practically anyone can be a good candidate for them. If you are suffering from severe tooth loss, there's a good chance that dentures could be a great option for you! Of course, it's important that you're in good oral health beforehand. Once you've completed any necessary preliminary treatments to get your oral health back on track, such as gum disease treatment or a tooth extraction, we can fit you for dentures.
Types of Dentures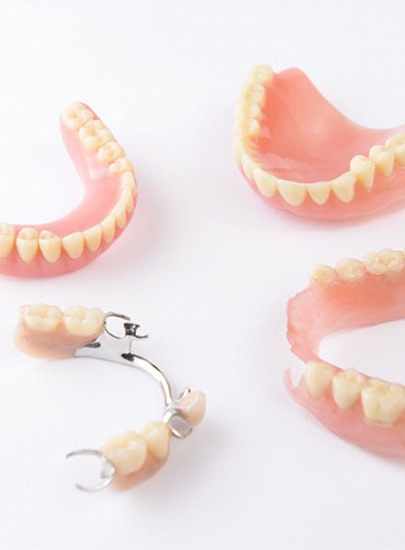 During your denture consultation with Dr. Eric Barajas, we'll inspect your mouth and determine which type of denture is right for you. Dentures are more versatile than many people realize, and we are proud to offer several solutions to fit every type of smile. For all denture options, a gum-colored acrylic base is crafted to fit in your mouth perfectly and is then set with natural-looking replacement teeth. Depending on your unique situation and preferences, Dr. Barajas may recommend one of the following types of dentures.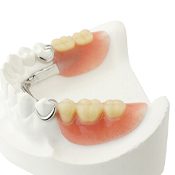 Partial Dentures
Partial dentures replace missing teeth like a puzzle piece. These restorations are designed to fit around and between remaining teeth, seamlessly filling in the gaps. Small discreet metal clasps wrap around the healthy tooth structure to keep partial dentures firmly in place.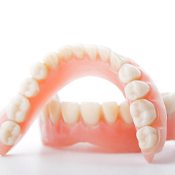 Full Dentures
Full dentures look like a complete arch of teeth. The base is created to fit snugly but comfortably on top of the gums. This close fit creates a natural suction that secures the replacement teeth in place.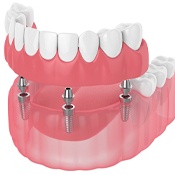 Implant Dentures
Alternatively, partial and full dentures can be anchored in place with dental implants. Instead of resting on the gums or attaching to healthy teeth, this type of denture is fastened to several small titanium posts that are inserted directly into the jawbone. While this method requires more time and effort, implant dentures offer unmatched comfort and stability.
The Benefits of Dentures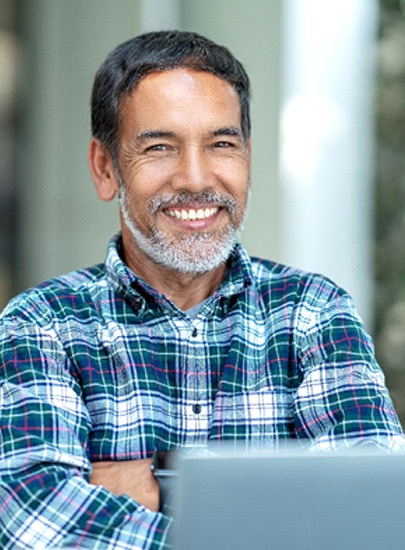 Dentures are a classic tooth replacement option that offer benefits like:
Fast, relatively non-invasive treatment
Beautiful and completely natural-looking results
Restored ability to chew and enjoy a full, nutritious diet
Support for the facial muscles and a more filled-out appearance
A cost-effective means of replacing missing teeth